We talk in detail about the Canadian immigration program for self-employed citizens 😎 – Self-employed Persons Program: features, requirements, immigration process.
This program is relevant for those who have experience working for themselves and can confirm this. You also need to convince Immigration Canada that you will continue to be self-employed after you move.
Self-employed is not suitable for absolutely all freelancers and individual entrepreneurs. The activity must be related to the arts, culture or sports.
On many websites you can see that farmers are included in this program. This is old information and is not valid as of March 10, 2018.
These include: writers, athletes, coaches, designers, artists, announcers, librarians, etc. Below is a list of all current professions.
If you are self-employed and can prove your work history, but your work does not qualify, then we recommend the Federal Skilled Worker program .
The main advantages of the program are that it has no age restrictions and specific requirements for knowledge of the language and education. If you get few points for these indicators, you can win at the expense of others.
It is also worth noting that the information is relevant for all provinces and territories of Canada, except for Quebec. It has its own immigration policy and, accordingly, requirements and selection criteria.
List of suitable professions
They are located in the Canadian Occupational Classification ( NOC ) in the 5th group "Occupations in art, culture, recreation and sport". Their list on the official website can be found at this link .
Table of current professions

Code in NOC

Kind of activity

5111

Librarians

5112

Conservatives and Curators

5113

Archivists

5121

Authors and writers

5122

Editors

See the whole list
General requirements
To qualify for this program, you must meet a number of requirements, as well as earn a passing score based on your performance.
Work and experience
Self-employed immigrants must have relevant experience within the last 5 years prior to the date of application. Relevant experience means:
from 2 years of self-employment in the cultural and sports field;

from 2 years of experience of participation at the world level in cultural events and sports.
You will need to prove that after moving to Canada you will continue to work for yourself, not for hire, and will be able to benefit the state. And this is really a very important point, since many were refused due to the fact that immigration officers did not see them as potential benefits for the country:
I am not sure that you meet the definition of "self-employed person" as set out in subsection 88(1) of the rules because you have not demonstrated the ability to make a significant contribution to certain economic activities.

Translation of part of the rejection message
At the same time, you do not sign any documents obliging you to work for yourself after successful Self-Employed immigration . Therefore, the main thing is to convince the immigration officer. And then work where and how you want.
How to validate relevant experience
Most often, extracts from the tax service are used for this, stating that you are an individual entrepreneur and do not have employees. The type of activity is also indicated.
You must attach bank statements showing that you receive money for work and spend on necessities of life.
You can also use any other methods as proof of work experience for self-employed people:
contracts with customers;

letters of recommendation from former and current clients;

links to your page on the freelancing site(s);

notes about you and your activities in newspapers, on websites;

any other documents that can prove that you worked for yourself.
Do not be shy or afraid to attach some extra information. The main thing is that it should be somehow connected with your work experience.
Letters of recommendation are an important part. They show that people respond positively to your work, that your services are in demand. This may prove your potential usefulness to Canada. It is important to collect as many of these letters as possible.
Selection criteria
If you can verify that you are self-employed, then the next step is eligibility.
There are 5 factors: age, work experience, knowledge of languages, education and the ability to adapt. For each of them they give certain points. There are 100 of them in total.
To meet the minimum requirements, you must score at least 35. Learn more about each factor in the article about Self-employed selection criteria .
The number of places for immigrants under this program is limited, so you need to strive to score as many points as possible.
Funds for settling in Canada
You will need to prove that you have sufficient funds to support you and your family members and to support your activities (if required) for at least 1 year.
There are no specific requirements for your capital. On the official website, they only recommend that you fully study life in the region to which you immigrate and collect the necessary amount of funds.
We recommend that you prepare and attach to your application a business plan that will demonstrate your development plans in Canada. The need for this is confirmed by the frequent reasons for refusal:
I am not sure if you have researched the job market in Canada and planned your work activities, which would allow you to become self-employed and contribute to the country's cultural or sports activities.

Translation of part of the rejection message
In the business plan, describe in detail where, how and in what way you will carry out your labor activity. This is really important, so don't be too lazy to look for examples and spend 1-2 weeks drawing up a plan.
We do not have specific recommendations on the size of such a plan. It all depends on the size of your family, profession. The main thing is that it proves that you have done the analytics and are ready for a successful move.
You can also plan your finances there: renting a house, a car, paying for the Internet, buying groceries, etc.
From this information, it should be clear how much money you need for a month / six months / a year. And most importantly – that you have this money, and better with a margin.
If you enter the state with funds in the amount of 10,000 Canadian dollars, then they must be declared.
Medical checkup
To become a permanent resident of Canada, you and your family members must undergo a medical examination that shows that:
you do not pose a risk to public health and safety;

your situation does not require an excessive need for medical or social services in Canada.
The latter refers to prolonged hospitalization or inpatient care for physical and psychological illness.
It is your responsibility to notify immigration immediately if there is a change in your marital status or family members. Any family member who was not screened prior to your move will never be able to be sponsored in the future.
All detailed information about the medical examination (forms, instructions) will be provided by the immigration office. You are not required to undergo an examination before applying.
Medical results are valid for one year from the date of the examination. If your application is not decided within this time, you may need to have another medical examination.
Help from the police
You and your family members over 18 must provide a police certificate from countries where you have lived for more than 6 months (except Canada).
You do not need to take a certificate from the police if you or your family member was under 18 years old while living in the country.
The certificate must be translated into English or French, and then attached to the package of documents along with the original.
Delivery of biometric data
In most cases, you and your family members (over 14 years of age) will need to undergo this procedure. Even if you have done it before. You can find out exactly if biometrics is required on the official website .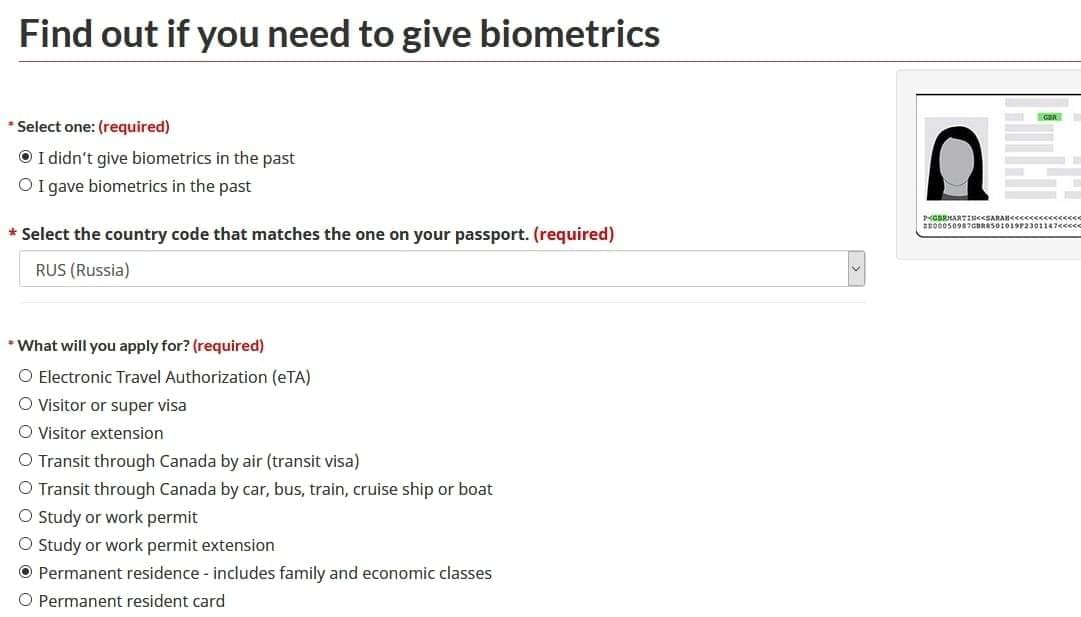 If required, then this must be done after:
how you pay the applicable fees and apply for the program;

after some time, you will be sent a biometric instruction letter (BIL) – a letter with instructions.
Taking this letter, you need to go to the point for the delivery of biometric data. It is best to do this as soon as possible after receiving the BIL.
Receiving a letter with a referral for biometrics does not yet mean that a positive decision has been made on your application. This step is mandatory for everyone in order for the case to be considered.
Preparation of documents
What to collect
All documents and forms that are listed in the checklist IMM 5784 .
The checklist itself must also be downloaded, filled out and printed, and after collecting all the other documents, make it the title page.
Small items such as photographs, certificates, etc. it is better to attach with a paper clip to the corresponding document.
If you are unable to provide any of the requested documentation, a detailed written explanation of this must be included with the application.
The checklist has a Format column. In it, opposite each document, the format (original or copy) is indicated. Do not include originals unless otherwise indicated.
There are also 2 columns: SE (Federal Self-employed class) and QC (Quebec Selected Self-Employed). We need the first one.
The checklist describes the requirements for each document, so there should be no problems. If anything, write in the comments to this article, or fill out the feedback form.
Confirmation of knowledge of the language
To do this, you will need to pass one of the specialized tests. The results of such exams are translated into the CLB scale. More about CLB and test list .
Confirmation of education
Unlike the Express Entry system , here it is enough to attach copies of your diploma / certificate of education.
However, it may happen that your diplomas will be underestimated, and you will receive less points. That is why some carry out the evaluation of the diploma (s) and, together with their copy, attach the results of the assessment.
The diploma does not have to be related to your occupation, which you indicate in the application.
Translation of documents
All documents that are not in English or French must be translated unless otherwise noted in the IMM 5784 document list.
The translation must be carried out in a translation agency with an appropriate seal.
Also, all translations must be notarized. To do this, you can contact special agencies that perform notarized translations.
Translation and certification cannot be performed by one of your relatives.
For a translated document to be considered certified, the person concerned must indicate on it:
подтверждение – I certify that this is a true copy of the original document;

name of the original document;

current date;

Company name;

official position and signature.
Filling out an application
22 months – this is how long it can take to consider your case, according to official information. In fact, everything happens much faster (from 4 months).
Detailed instructions for filling out each form, as well as links to download them, are located on the official website .
You need to open the page using this link, download and fill out the documents in the specified order.
Each form must be signed and dated if they contain the appropriate fields.
The application must also be accompanied by a page(s) with a barcode, which is generated after filling out the IMM0008 form and successful validation (the Validate button).
If you have any questions or problems when filling out, then write to us using the feedback form at the end of the page.
Payment of duties
The list of fees to be paid is in the table below.
Fee table

| Collection | The size |
| --- | --- |
| Consideration of the application of the main applicant | 1 575 CAD |
| Permanent residence of the main applicant | 490 CAD |
| Consideration of partner/spouse | 550 CAD |
| Spouse/partner permanent residence | 490 CAD |
| For each dependent child | 150 CAD |
| Biometrics for one person | 85 CAD |
The fee for biometrics for a family applying at the same time does not exceed 170 CAD.
Payment procedure
Before paying, make sure that you have an active e-mail, a payment card and access to a printer to print a receipt.
To pay fees, you need:
Go to the page of the 

official site

 , answer a few questions and pay the formed list of fees.

At the end click on the appropriate button to print the IRCC barcoded receipt. This must be done. 2 copies.

Attach one of the copies to the application package. 

It is required to confirm payment. Keep the second one.